Managing a foodservice business means you're always seeking ways that will help serve customers quicker while maintaining food quality. How can you prepare food so it's ready to go while still keeping it hot, without drying it out? The UNOX EVEREO is what you've been looking for.
The EVEREO is considered the first-ever hot fridge. Able to keep food hot for days (yes, we said DAYS!), the EVEREO can take your restaurant to the next level while controlling labor and improving customer satisfaction.
Get Food Out Quicker
In the old way of restaurants, customers placed an order and your kitchen staff cooked it. This process from receiving the order to cooking it to delivering it to the table, depending on the restaurant and type of food, takes time that can frustrate customers or not allow for a better table turnaround time.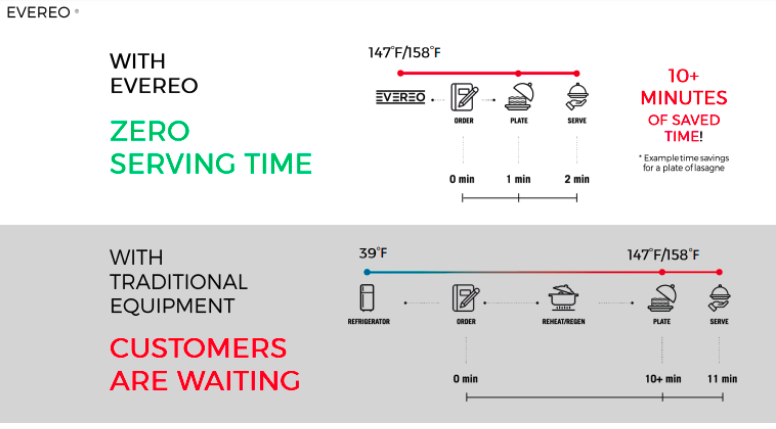 Now, with the EVEREO, popular food choices can be cooked a few days in advance and served as soon as the order is placed without food quality being compromised. This comes in even handier during the busiest holidays of the year or for large events. Now prepping in advance doesn't have to stop when it's time to start cooking. Imagine how much time would be saved by cooking brunch items for Mother's Day the Thursday prior and how many tables could be turned over because of it.
Save On Labor
Prepping and cooking meals can involve a lot of labor at one time. This is especially true during holidays and during events. Getting ready for a wedding involves a lot of people in the kitchen at the same time. Or does it? Being able to prepare and cook food several days in advance lets your kitchen staff work more efficiently and have less stress during their busiest times.
Keep Great Flavor
Reheating frozen food is never as good as enjoying food cooked from fresh ingredients. But frozen food is an easy way for many foodservice businesses to serve meals quickly. A better alternative is using the EVEREO. With no loss of moisture, no need to edit recipes to work in different conditions, and cooking from scratch, meals are tastier and more enjoyable. Ensuring customers will return and helping to increase profits.
Would you like to learn more about how the UNOX EVEREO can unlock your kitchen's ultimate potential? Schedule a FREE Kitchen Review with a knowledgeable Voeller team member today.